The Mission of Birthline …
We provide material support for pregnant women and mothers of infants in need. We plant the seed of God's love within the hearts of women and men who may feel overwhelmed, lost, alone and afraid. We support those who are single, married, young or old. We serve approximately 1100 clients each year.
The Goals of Birthline ...
Offer hope and support to mothers during and after pregnancy–regardless of the circumstances surrounding the pregnancy.

Provide assistance in a confidential and non-judgmental manner.

Provide life-affirming support for those facing difficult or unexpected pregnancies.

Witness to the community a respect and reverence for all human life.

Advance the teaching of the Church regarding the gift of life.
How Birthline works …
Women in need call Birthline at (317) 635-4808 and speak to trained phone volunteers and receive assistance over the phone.

Helpline Volunteers refer the women to outside agencies that can provide financial, emotional and spiritual support during their pregnancy.

Volunteers welcome pregnant and new mothers in need of material assistance. Layettes are prepared and distributed at the Catholic Center on Mondays and Wednesdays by appointment only.

Referral Letters from other agencies such as St. Vincent de Paul, a local church, or social service organization are required at time of the appointment.

How You Can Help …
Collect and donate new or gently used maternity and baby items. Material donations can generally be dropped of Mondays and Wednesday from 9 AM to 3 PM at the Catholic Center on the north side of the building. Please enter alley by way of Meridian Street. There is no need to call prior to coming. The following items are needed:

Maternity Clothing
Boy and Girl Infant through size 2T clothing
Diapers
Formula
Portable baby bed (no full size cribs)
Strollers
Birthline staff and volunteers have researched and discovered the most economical stores to purchase items needed for Birthline. To see the recommended list and stores, click here.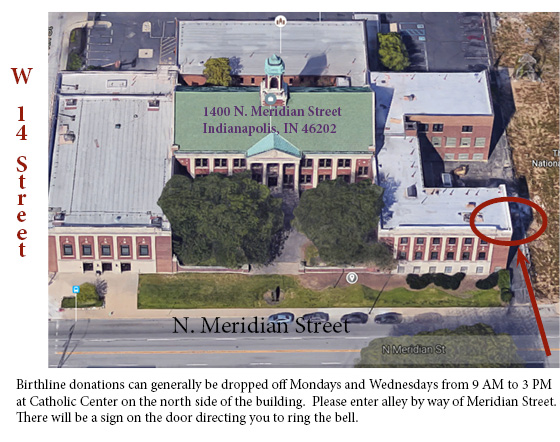 Support Birthline Financially
Donate online (Be sure to put in the notes "Birthline".)
Checks or money orders should be made out to the Office of Human Life and Dignity and include in the memo line "Birthline". Donations can be sent to the following:

Office of Human Life and Dignity
Archdiocese of Indianapolis
1400 N. Meridian Street
Indianapolis, IN 46202

Volunteer for Birthline!

Help build a Culture of Life from your own home by becoming a Birthline Hotline volunteer. Provide a listening ear and schedule appointments for pregnant women and new mothers to receive material assistance. A required training is provided.
Assist in preparing layettes and meeting with women on Mondays and Wednesdays at the Catholic Center.
Contact Jená Hartman at 317-236-1433 or jhartman@archindy.org to learn more about how you can help!